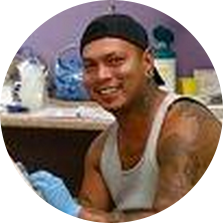 Chris
Tattoo & Piercing
I began professionally tattooing in the summer of 1998, and I've been with The Electric Chair since August 2001. I like all styles of tattooing: cover-ups, bold line, fine line, color… but my favorite areas of style include subtle color, black & grey and cursive lettering.
Chris has also been performing body piercings since the beginning of 2000. He likes straight forward, to the point piercings! It's amazing how one (or two, or three…) little pieces of metal can change someone's entire look or how they feel about themselves!
For appointments & consultations, please call / text or email Chris!