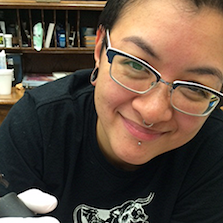 Stephanie
Tattoo & Piercing
I've been tattooing since 1998, and running The Electric Chair since 1999. I couldn't imagine doing anything else I love as much ! My favorite styles involve American Traditional, one-off custom designed pieces, images with bold lines & brightly colored "pop", along with black & grey work.
I began body piercing in 2000. I attended Fakir Musafar's Body Piercing Intensives (San Francisco), both basic & advance courses, and received extensive training in Bloodbourne Pathogens and CPR.
Appointments are necessary, as I tend to stay booked up to several weeks in advance. Please text message me or email me for questions and availability.